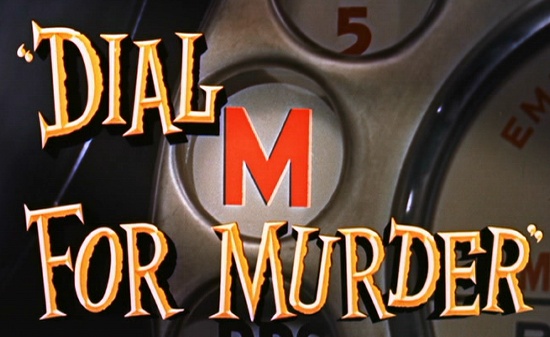 One of the few Hitchcocks I've seen previously, Dial M for Murder is one of my favorites. The story, adapted from a play, takes place almost entirely in a single room and is told primarily through dialogue. On screen this can be tedious and boring but Hitchcock manages to keep the pace up by constantly toying with our perceptions of who the protagonist is and who is in the right. In the story a former tennis pro is married to a young Grace Kelly. He finds out that she has been seeing a young, American TV writer and decides that the best option is to kill her, that way he can inherit her wealth. So he hires a man, someone he knew back from college, to kill his wife. He has it planned to the last detail and calls it the "perfect murder." But of course things don't unfold the way he expects and he is forced to improvise. I wont reveal how it all turns out though just in case you wanna watch it yourself.
While the premise is good, and the plan complex and thought out, the greatest thing about this movie is how easily you are pulled from side to side. None of the three main characters are guiltless in the movie. The husband wants his wife to be killed, the wife is having an affair, and the young American writer is the man she is having the affair with. Every one of them is in some way morally corrupt. The result of this is that we are easily swayed by the characters into rooting against the others. For a good chunk of the film I found myself actually hoping that the husband would get away with it. I don't mean to say I sympathized with him but it wasn't like I had sympathy for the wife either. However late in the movie there is a shift and all of a sudden the other characters take the spotlight and I found myself rooting for them to catch the husband. Suddenly he was clearly in the wrong even though I had been cheering for him only minutes previous. And therein lies the strength of the film.
All in all Dial M for Murder is a relatively simple film technically with one or two sets and a few nice shots and effects. However the characters drive the plot and make us question who we want to come out on top. My verdict? While it's no Rear Window or North by Northwest, it's definitely a must see for any Hitchcock fan.
Up Next: The Wrong Man